Essays
Dead fish in Chesapeake. Hail stones the size of bowling balls. Birds falling from the sky all over the world. Has the world gone bonkers biblical-style? Is the Rapture upon us, ready to whisk Kirk Cameron up to his special space camp? Are those 2012 kooks the only ones who are SANE?!
Stop. Calm down. Breath deeply. Weird weather and unexplained animal deaths have been wrecking havoc on mankind since day one, and most were a lot worse than some dead birds falling from the sky. Don't believe me? Well, feast your eyes on the ultimate list of SIGNS OF THE APOCALYPSE that really weren't.
GREAT BALLS OF FIRE
Well, technically they're great balls of lightning, but you get the point. Throughout history, there have been numerous accounts of "ball lightning"– fiery spheres of electricity that seem to appear out of nowhere. Also known as a plasma vortex, these lightning balls have even been described as having minds of their own.
According to Science Frontier, one such occurrence with in 1977, when a coast guard officer caught glimpse of a "brilliant, yellow green, transparent ball with a fuzzy outline" the size of a bus that seemed to float down the hillside off the coast of Wales.
While occurrences in nature are still rare, in 2007, scientists in Berlin claimed to have created ball lightning in the lab. Achtung!
FIRE RAINBOWS
Sure, "fire rainbows" might sounds like an obscure Ronnie James Dio album, or something the Insane Clown Posse couldn't figure out, but they are actually an awe-inspiring natural occurrence.
Fire rainbows (or "circumhorizon arcs" as the eggheads like to call them) appear when light reflects off of ice crystals in high level cirrus clouds, creating a stunning optical phenomenon in the sky. They usually are spotted midday during the summer solstice. And yes, ICP, "there's enough miracles here to blow your brains".
FIRE TORNADOS
Fire rainbows not terrifying enough for you? Well, how about FIRE TORNADOS?!
That's right, actual tornados made of fire occasional sprout up, usually after long dry spells and windstorms lead to intense brush fires.
Also known as fire devils or firenados, these whirlwinds of destruction can quickly devastate entire cities. In 1923, the great Kanto earthquake in Japan caused one such fire tornado that killed 38,000 people in fifteen minutes.
THE CANDY MAN COMETH
Not all freaky weather events involve death and destruction. In 1857, Lake County, CA was treated to a sweet storm of falling candy.
According to the History of Napa Valley and Lake Counties, the small frontier town was pelted with sugary crystals over the course of two nights. While no one could explain the bizarre weather, the locals made the best of the situation, with the local women supposedly making syrup from the fallen sugar flakes.
RAINING CATS AND DOGS
We've all heard the tired, old expression "It's raining cats and dogs". Well, some folks believe this might have actually happened.
Way back in 1999, in the "wild west" days of the internet, a popular e-mail was circulating which purportedly told of Life in the 1550's. In it, the writer said the phrase originated when cats and dogs would get swept off of rooftops during rainstorms.
The author of the email, of course, fails to explain how the pets got on the roof in the first place. But hey, that's the internet for you!
FALLING FISH
While many of these strange weather stories seem to be freak occurrences, one such oddity is said to happen on a more regular basis.
Lluvia de Peces or Rain of Fish is a phenomenon that's been appearing for more that a century on a yearly basis in Honduras. Residents of Yoro claim that after a large thunderstorm, hundreds of live fish appear on the ground. Every year, the city hosts a festival to celebrate the annual fish-fall, making a feast of the mysterious sealife.
While many scientists believe the event is caused by fish traveling through underground water spouts, some locals call it the "Father Subirana miracle". because of Father Jose Manuel Subirana, who once prayed for three days and three nights for God to provide food for the poor town. According to legend, the fish have fallen every year since.
FLYING FROGS
Dogs, cats, fish. "But what about frogs?" you ask.
Claims of frogs falling from the sky have popped up everywhere from Minnesota to Greece. England appears to be the king of falling frogs, with reports dating back hundreds of years. The most recent frog storm was in 1995 in Sheffield, England, where local resident Nellie Straw claims to have been driving through a severe storm with her family when her car was suddenly pelted with hundreds of frogs.
No one seems to be sure how or why these incidents occur, although French physicist Andre-Marie Ampere thinks the frogs might have been swept up in strong winds.
JUMPING JELLYFISH
Frogs aren't the only wildlife that have fallen upon the English countryside. According to the London Times, a mass of jellyfish-like creatures rained down on Bath, England in 1871.
London Times, April 24, 1871:
"That, upon the 22nd of April, 1871, a storm of glutinous drops neither jellyfish nor masses of frog spawn, but something of a [line missing here in original text. Ed.] railroad station, at Bath. Many soon developed into a wormlike chrysalis, about an inch in length."
Okay, maybe it wasn't jellyfish, but whatever it was sure was gross!
BRAIN STORM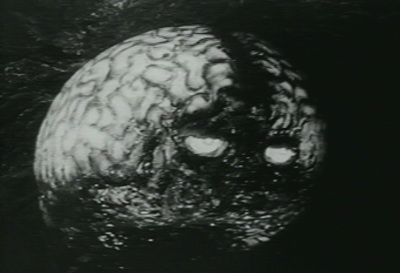 Falling globs of jello may be nasty, but it's got nothing on the great brain storm of 1851. On February 15th of that year, Simpson County, North Carolina was besieged by one of the most disgusting weather systems of all time.
According to witnesses, pieces of flesh, liver, brains and blood rained down over the area. And you thought it was bad when your picnic got rained out!
KILLER FOG
London is famous for its fog, but once upon a time it was fatal.
In the late 1800's, in the midst of the coal-powered industrial revolution, parts of London were engulfed in industrial pollution. In 1880, a thick poisonous fog swept through the city, killing nearly 2000 people. Despite this tragedy, little was done to curb the coal industry's killer mist. Thousands more died over the years, most recently in 1952, when a mix of fog and coal smoke killed another 4,000, which finally led to anti-polution laws.
TRIPLE SUNS
And you thought the twin suns of Tatooine were cool. Triple suns, or "dog suns", have been spotted all over the globe. So why aren't we all burning up from the extra heat? (Or at least bestowed with some sort of Kryptonian-like powers?)
Well, it's because the extra suns are just a mirage, the result of sun rays being refracted by hexagonal plate-like ice crystals.
But don't tell the folks in China that. A recent triple sun there led one newspaper to believe they were being invaded by aliens.
CREEPY CLOUDS
Okay, I'll be the first to admit clouds aren't the scariest things in the world, but hear me out.
Imagine you were in prehistoric times (or at least pre-History Channel), and giant, swirling masses suddenly appeared in the sky that seemed to be reaching down like giant ghostly fingers. You'd be one freaked out cave-man.
But while your primitive mind might imagine some massive sky-giant was trying to kill you, what you were probably witnessing were Mammatus clouds. These towering cumulonimbus clouds have often been associated with server storms or tornados, but in reality are no more dangerous than your average rain cloud.
PENNIES FROM HEAVEN
Falling frogs and fish may not be your cup of tea, but I'm sure most of us wouldn't mind a cloud full of money raining down.
Over the years, there have been several reports of just that. In 1940, coins were seen falling on the Meshchera region of Russia. A few years later, pennies and halfpennies supposedly rained on lucky schoolchildren in Hanham, England. And in 1976, 2,000 marks floated down from the skies over Limburg, West Germany.
SNOW DONUTS
Just a few years ago, Ajax, Ontario looked like something from a Homer Simpson fantasy.
The entire lakefront was covered in what looked like giant donuts. While they appeared to be some sort of ice sculptures or an elaborate prank, they were, in fact, naturally rolled snowballs caused by the wind. Apparently, the conditions must be just right for this to occur: the temperature must be around freezing with strong gusts of wind in an open area.
MAN STORM
While this strange weather pattern is rare, an incident of falling men was documented by Martha Wash and the late Izora Rhodes of The Weather Girls in their 1982 hit "It's Raining Men".
Co-written by Paul Jabara (who also wrote "Last Dance" for Donna Summer) and The Late Show's Paul Shaffer, "It's Raining Men" has been heard in every male strip club for the past 20 years, making it one of the longest-lasting weather systems in history.